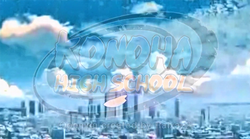 Konoha is the city in which the
Konoha High School
series is set.
Konoha is the hometown of many characters in the series. It is a relatively large city, with various tall buidings creating it scenery, as seen in the opening of the animated series.Most bulidings are colored in cyan as well.
Landmarks
Edit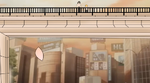 Passage Way
Edit
There is a passage way on which people usually hang out, it appears to be close to Konoha Gakuen.This is the place where Naruto and Sasuke hang out casually.Underneath it is a very wide road,and is very crowded in the afternoon.It is implied that there are cherry blossom trees near this area.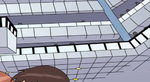 Konoha has a mall, where people go to do their shopping. It has a restaurant zone, in which teenagers usually hang out.It also has a video game shop,a comfort room,and is typically crowded almost every day.This is the setting for Ino's "date".It is implied to have very many shops,and has at least 3 floors.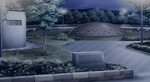 There is park in the city as well. It is usually attended by young couples during the night.It appears to be close to Hinata's house,as she and Naruto are seen walking through it when Naruto escorted her home.It is very large too.It has a silent atmosphere in the night,but maybe less so in the day,where most people exercise there.There are many trees,and a large stone on the front.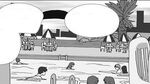 There is a wide pool in the city where people can go to swim and hang out with friends.It is shown to be very crowded,especially during the summer season.This is the main setting for the Summer Vacations Arc.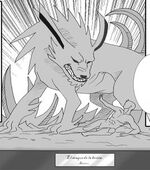 Art Exhibition
Edit
Konoha features an Art Exhibition, where galleries of artists are displayed to the public. Kiba's dog, Akamaru, serves as an inspiration to one of the artists, and has a sculpture in the Art Exhibition.It is featured with many drawings,paintings,sculptures,etc.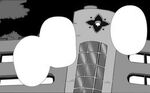 The Police Station
Edit
Konoha's Police Station is ran by the Uchiha family.It's police force wear flak jackets that have the Uchiha symbol,which is a fan.Some members may wear necklaces with the family symbol,as it is with Sasuke.Madara Uchiha seems to reside here as well.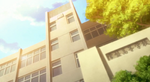 The High School
Edit
Main article: Konoha Gakuen
Konoha's High School, entitled Konoha Gakuen, is the main education facility of the city. The school is highly prestigious, and even receives students like Hinata Hyuuga, Neji Hyuuga and Naruto Uzumaki, who are part of families that control powerful companies in the country.As stated by Sakura,it stands out from all the rest,which refers that it must be highly superior to most schools.